New Delhi: Television and film actress Vaibhavi Upadhyay, who became a household name after playing the role of Jasmine Mawani in the popular sitcom Sarabhai Vs Sarabhai, died in a tragic car accident in Shimla, leaving behind family and friends in mourning. According to reports, her fiancé Jai Gandhi was also with her inside the vehicle at the time of the accident. Days after her passing, Jay took to social media and shared an emotional note.
Remembering Vaibhavi, her fiancé Jai Gandhi wrote: until we meet again….
Those special memories of you always bring a smile. If only I could have you back for a little while, we could sit and talk like we used to.
You always meant a lot and always will.
The fact that you are no longer here will always cause me pain, but you are in my heart until we meet again….
Rip my love
Along with Dili, he has also shared a picture with the late actress.
Vaibhavi Upadhyay died in a barren area of ​​Kullu district. When she was traveling with her fiancé in Mumbai No. Fortuner, she fell into a ditch. The accident occurred while negotiating a steep turn. "Vaibhavi tried to get out of the vehicle through the window and sustained a head injury, which proved fatal, while the other passenger was unhurt," Kullu SP Sakshi Verma told PTI. The actor, who was in his 30s, will be cremated in Mumbai on Wednesday, Varma added.
Sarabhai Vs Sarabhai producer JD Majithia first shared the news of Upadhyay's demise on his Instagram story on Wednesday morning. "Life is very unpredictable. Dear friend Vaibhavi Upadhyay, a very good actress popularly known as 'Jasmine' of Sarabhai vs Sarabhai, passed away. She met with an accident in the North. Family took her to Mumbai around 11 am yesterday. Will carry. Funeral. RIP Vaibhavi (sic)," reads JD Majithia's post.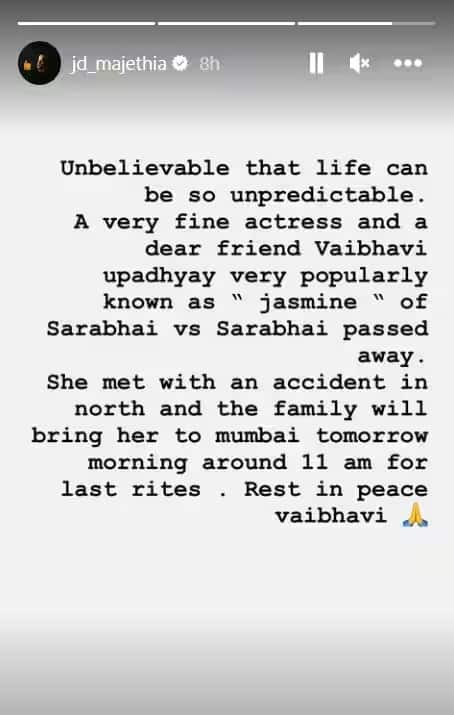 Reacting to the news of his sudden and unexpected demise, the show's former co-stars Rupali Ganguly and Deven Bhojani also expressed grief.
Vaibhavi Upadhyay appeared in Deepika Padukone-starrer Chhapaak and Timir (2023). He starred in TV shows including CID and 'Adalat' among several other projects.