New Delhi: Former actress Zaira Wasim, who appeared in films like 'Dangal' and 'The Sky is Pink' before quitting in 2019, shared a post about how eating without removing the niqab is totally her choice.
Zaira reacted to a user's post on her Twitter, who shared a picture of a woman holding a niqab with one hand.
The picture was shared by the user with the caption: "Is this a human choice?"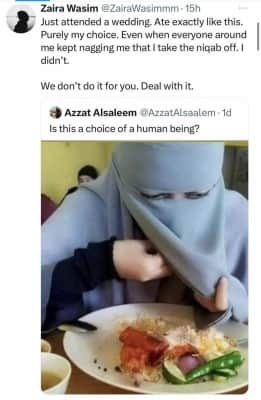 Reacting to the tweet, Zaira replied, "Just attended a wedding. Ate exactly like this. Exactly my choice. Even when everyone around me kept pestering me to take off my niqab. I didn't. We Don't. You deal with it."
Zaira got recognition with her acting in Aamir Khan's film 'Dangal'. Later she appeared in 'Secret Superstar'.
Kashmiri-origin National Award-winning actress Zaira Wasim has announced her "separation" from the field of acting, saying she is not happy with the line of work as it interferes with her faith.